Shaw eager to stay true to his game
India opener Prithvi Shaw says that he was just trying to treat his debut Test as any other game but conceded that the enormity of the occasion had rattled him.
He showed few nerves in becoming India's youngest debut centurion in Test history.
"I'm feeling really good after the hundred," Shaw told Star Sports at the end of the day's play. "At first I was a bit nervous, but when I got in I was quite comfortable and I was just trying to play my natural game – what I do in first-class cricket and India A.
"I just kept on going. I didn't think about this being my first game, I was just thinking it's another game for me, and it just happened."
Shaw said he played each ball on merit as he raced to a century on debut in quick time.
He said: "It was on my mind that it's my first time in Test cricket – 'how am I supposed to bat?' But on the other hand, I was like 'I'll play my game'. I was confident after playing 10-15 overs. I was just playing the ball on merit and I just kept going."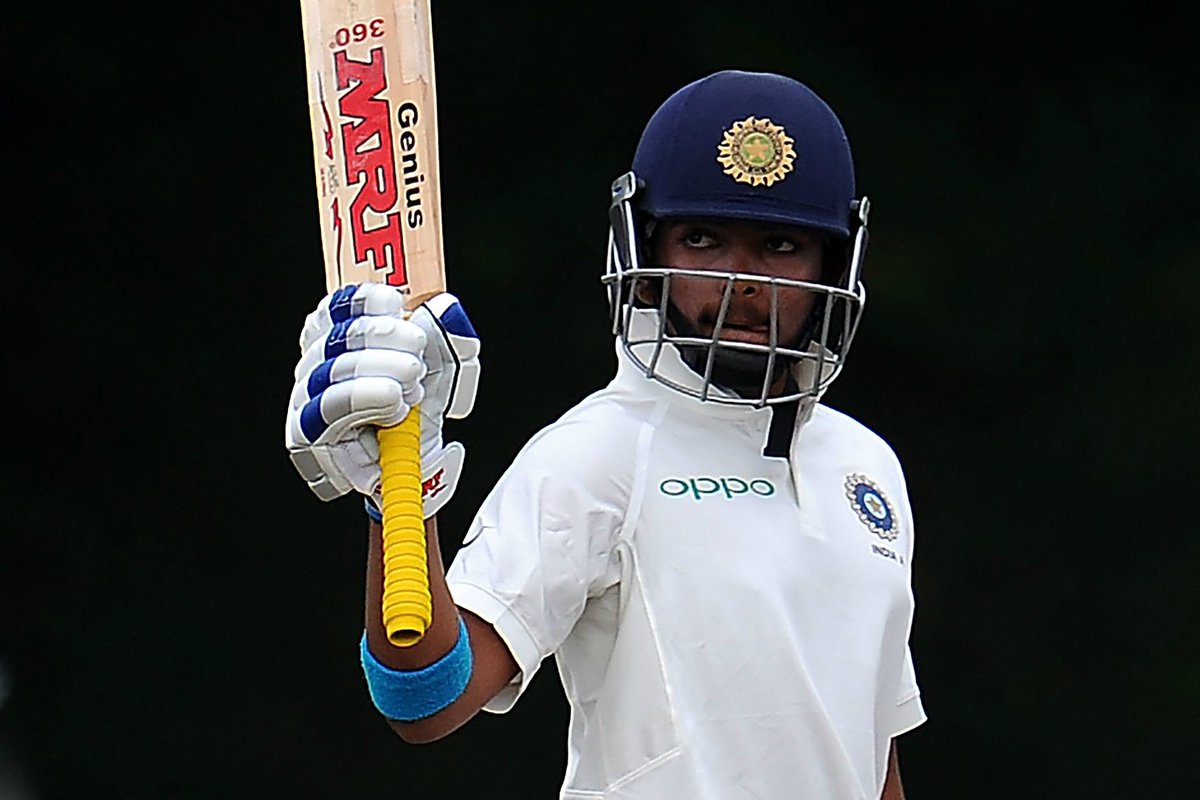 Shaw dedicated the innings to his father whom he says has sacrificed a lot to allow him the opportunity to play for India.
"I was thinking of my dad, because he has sacrificed a lot of things for me," he said. "The first hundred is all for him. Whenever I score, I score for him.
"It was a big thing for me because each and every cricketer dreams of playing in the Indian side and I got the chance. I didn't want to lose this opportunity. It was a good challenge for me to play against these guys and I think I did well."
Despite being just eighteen Shaw already has a fair amount of cricket under his belt thanks to a school system where cricket dominates.
"From a small age we used to play a lot of school cricket, 30-35 games in a year in school cricket, then Under-16 games," he said.
"When I came to Under-19 I played a lot of cricket and got a lot of experience. Then India A as well, and Ranji Trophy, it just keeps going on. Because of all those games I gained experience, and from all the experience I got earlier I brought [into play] over here and just played my game."
Shaw was disappointed to chip one back to Devendra Bishoo to end an innings of 134 after lunch on day one, he felt a big score was on the cards.
"I don't think it was enough scoring that hundred," he added. "The wicket was good and I should have kept batting. I was really disappointed. That was in my mind: 'it's only ten minutes [until the tea break], you have to be just a bit careful.' Just that odd ball came, it bounced and gripped a bit."