SA must not allow Aussies to intimidate them
There is no doubting Australia dominated the opening Test of what should prove to be a most captivating battle between them and South Africa, even if the numbers through the gate do not depict what is undoubtedly a highly-anticipated clash.
The additional bonus is that we are treated to a series of four Tests, which are not common place these days in an era where schedules are being devised with the intention to decrease the amount of Test cricket.
With a four-Test series it allows individual battles to develop as the teams learn about technical and mental deficiencies, players poke and prod at opponents hoping to identify and exploit any kind of weakness with which to pounce and use against them in the upcoming Tests.
That this Test ignited almost immediately intimates that Australia may have premeditated such a theory and reminds South Africa they cannot afford to be as passive as they were at various times throughout the Kingsmead opener.
That Australia wanted the stump microphones turned down so you couldn't detect what was being said is a strong indicator they were planning on hitting the hosts hard.
The David Warner and Quinton de Kock altercation was a regrettable incident.
Warner is never shy at initiating a word or two with the opposition, especially when they are under extreme pressure, while de Kock will have felt the strain following a poor run of form resulting in South Africa opting to include an extra batsman at six, consequently dropping de Kock back down to a more familiar spot in the order.
The content of the exchange will largely remain unknown, with claims that each player resorted to personal insults, something Warner is no stranger to.
ALSO READ: Smith: De Kock got personal with Warner
Nathan Lyon effected the final act of the run out of the hugely-important AB de Villiers in the second innings before petulantly dropping the ball onto de Villiers, an act that may have provoked a more hostile response from other players.
De Villiers impressively managed to keep his emotions in check.
You wonder if a more fiery character, such as a Ben Stokes for example, would have been quite so understanding, or indeed whether Lyon would have acted in that fashion in the first place!
That run out also saw Warner barking helpful words of encouragement in the direction of the highly-impressive Aiden Markram, perhaps the catalyst for the antics later on that day between Warner and de Kock.
Mitchell Starc, Pat Cummins and Josh Hazelwood have also all been exceptionally vocal, they sense this South African batting line-up can be brittle, are prone to more than the odd collapse so are heaping further pressure onto them.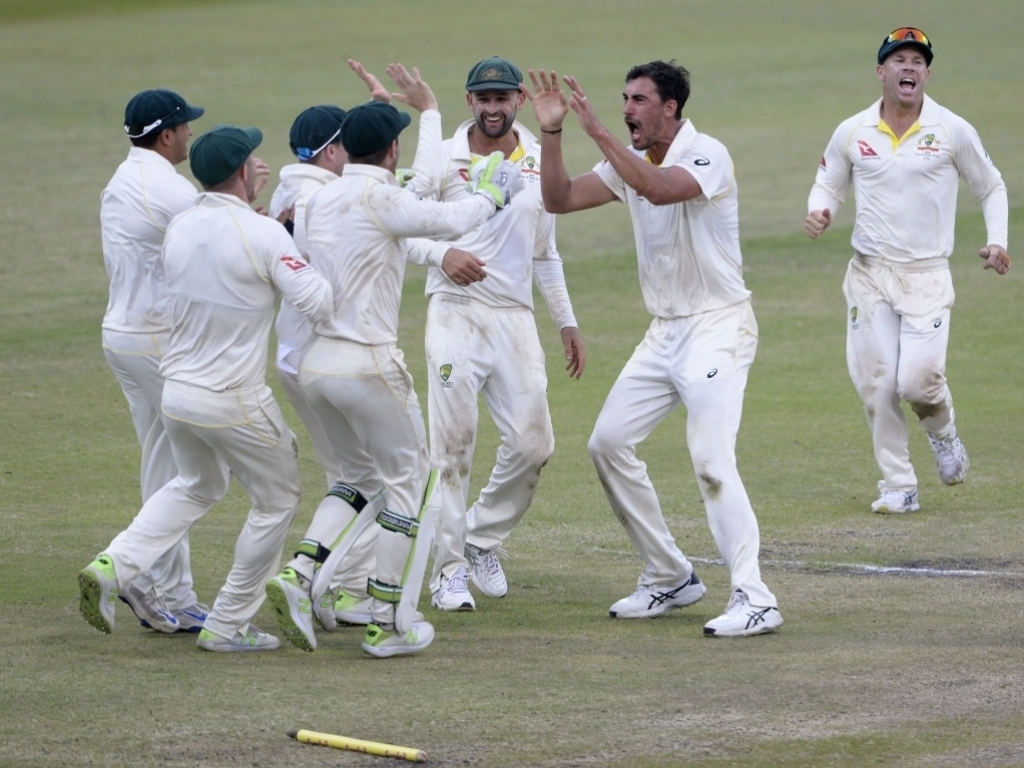 This Australia side are a supremely-confident group of players, and why shouldn't they be. The Ashes performances strengthened the belief they had in themselves if they can get their strongest bowling attack fit and out on the pitch consistently.
They know they can bowl any side out in the world twice, which in turn offers confidence to the batsmen.
Not that Steve Smith or David Warner are struggling for confidence, while the returning Marsh brothers are feeling much more at home in Test cricket these days.
However, verbal intimidation or mental disintegration, or whatever you wish to call it – some even refer to it as 'bullying' – has to be stood up to.
South Africa need to meet this aggressive approach head on. That isn't to say they need to unleash a torrent of expletives that will only hit them in the pocket and see the award of demerit points or suspensions, but they need to demonstrate they are up for this challenge, in fact, that they want this confrontation and they cannot be intimidated.
Currently, they are perhaps too accepting of the Australia behaviour, and maybe the de Kock incident will fire them up.
South Africa have determined and inwardly-tough cricketers, no doubt, but a number of them appear generally quiet mild-mannered individuals and you wouldn't want any forced aggression that they wouldn't be comfortable with.
As a team they need to announce themselves in this series.
Back in 2005 when England were clear underdogs (unlike South Africa in this series), the importance was clear – they had to stand in the faces of the great Australian side and let them know they weren't there to lie down.
The first chance England had, they all climbed into Matthew Hayden. Simon Jones and Paul Collingwood led the charge and others followed.
It wasn't distasteful or crossing the line, it was a sign of intent, they were not going to be intimidated, they obtained Australia's attention, they simply meant business.
South Africa need to show a similar act of defiance. The partnership on the fourth day between Markram and de Kock was as competitive a period as South Africa showed throughout the Test – but that came at a stage when the Test had all-but certainly drifted away from them.
As the series rolls on to Port Elizabeth, South Africa will need to put down an early marker.
Upsetting Warner is neither against the rules nor particularly difficult – but it is a worthwhile attempt to distract him, and the same applies for Smith.
This isn't about petty name calling, this is about South Africa not taking a backward step, showing unity in battle (in a cricketing sense), making the two Australian batsmen feel alone out in the middle and like they're up against 11 players.
They have a high-quality bowling attack to create and relish this kind of environment.
Intense cricket between these two nations is not something new, they have history.
In 2014, current South African captain Faf du Plessis likened Michael Clarke's Australia side to 'a pack of dogs' as they rounded on him when the batsman went to pick up the ball to return to the fielding side.
Du Plessis needs to instil some mongrel into his side if they are to avoid being walked over in this series.
Ultimately the side that plays the better cricket consistently will decide the outcome in this most intriguing clash – but in a series of small margins, any slight advantage could be crucial.
By Paul Wood