Top 10 Test moments between England and Pakistan
England will host Pakistan in two Test matches this summer, with the first Test starting on May 24 at Lord's.
There have been many memorable moments, in Test matches between the two sides over the years, and here we recall some of the top 10 moments from recent meetings.
10 – Neil Mallender takes eight wickets on debut in 1992.
England hosted Pakistan in a five-match Test series in 1992. The series was ultimately won by Pakistan, who had memorable performances from both Wasim Akram and Waqar Younis (more on this dynamic duo later).
However, for England there was a standout moment in the fourth Test at Headingley. After drawing the first and third Test, and losing the second by two wickets, England managed to tie up the series, largely down to an outstanding debut performance from Neil Mallender.
He was selected by captain Graham Gooch because his style was thought to be suited to the conditions at Headingley. This proved to be the correct decision, as he bowled with controlled swing and pace, luring Pakistan's batsmen into mistakes. He took 5/50 in a superb second innings, and 8/122 in the match, to help England win by six wickets.
9 – Danish Kaneria and Shoaib Akhtar trigger England collapse in 2005.
England travelled to Pakistan for a three-match Test series, looking to maintain their good form following their triumph in the 2005 Ashes series. The first Test looked to be heading England's way after a fine 193 from Marcus Trescothick helped them to a comfortable first-innings lead.
Pakistan recovered in the second innings, setting England a target of 198 to win the first Test. England had not failed to chase down a target of less than 200 runs since a fourth Test defeat in the 1998-99 Ashes series, and were expected to win comfortably.
However, remarkable bowling performances from Danish Kaneria and Shoaib Akhtar caused a collapse from England. Between both players they took seven wickets, using pace and guile to unsettle England, who registered just 175, losing by 22 runs.
8 – Pakistan outclass England in 1996 series.
A devastating combination of aggressive batting and world-class swing and spin bowling from Pakistan were the highlight of a memorable Test series in 1996, as Pakistan toured England.
England's Alec Stewart provided a memorable moment for England, in the drawn Test at Headingley, scoring a stunning 170. However, there were not too many other moments for England, with Pakistan dominant with both the bat and ball in the Tests at Lord's and the Oval.
Inzamam, Saeed Anwar and Salim Malik all produced centuries, while Waqar Younis' swing and Mushtaq Ahmed's spin bowling ripped through England's batting order. England collapsed to defeat on the last day of both Tests at Lord's and the Oval, largely due to Pakistan's quality bowling.
7 – Wasim Akram and Waqar Younis bowling partnership in 1992.
The most memorable moment of the 1992 Test series was Pakistan's excellent bowling, led by the partnership of Wasim Akram and Waqar Younis, and supported by Mushtaq Ahmed.
Both sides had a collection of world-class batsman, with Javed Miandad and Saleem Malik both hitting centuries, while England had the likes of Alec Stewart, Graham Gooch and Robin Smith, who all excelled with the bat.
The difference between the two sides was the quality of bowling. Where England struggled with the ball, Pakistan dominated. Wasim and Waqar took five or more wickets five times between them throughout the four Tests, with Akram taking 4/66 and Younis taking 5/91 in the second Test.
6 – Saeed Ajmal dominates first Test in 2011
In 2011 England faced Pakistan in a three-match Test series, played in the United Arab Emirates. The series will ultimately be remembered for a 3-0 whitewash for Pakistan, with Saeed Ajmal the man of the series after taking 22 wickets.
Pakistan and England adopted different approaches for the first Test, with Pakistan selecting two spin bowlers and England just one. Ajmal provided the series' most memorable moment with an excellent bowling performance that blew England away.
He took a career-best 7/55, five of his dismissals were leg before wicket, a record achieved by just five players previously in Test history. A little resistance came from England's Matt Prior, who managed 70 not out, but this was not enough as England lost by 10 wickets.
5 – Yasir Shah's 10-wicket haul in the first Test in 2016.
The last Test match series between England and Pakistan was a memorable one, as England recorded their fifth largest margin of victory in a Test match, winning by 330 runs in the second Test.
The most memorable moment, though, was the performance of Pakistan's Yasir Shah, who took 10 wickets in the first Test. In doing so he became the first leg-spinner to take a five-wicket haul at Lord's since 1996, and the only Asian player to take a 10-wicket haul at Lord's.
He registered 6/72 in the first innings as England were bowled out for 272, and took 4/69 in the second innings as England were bowled out for 207. Shah's performance helped Pakistan to a 75-run victory, and secured their first Test match win at Lord's for 20 years.
4 – Alastair Cook's record-breaking innings in 2015.
England and Pakistan's three-match Test series in the United Arab Emirates in 2015 was memorable for various moments. In the second Test, Joe Root became England's youngest cricketer to pass 3000 Test runs when he scored 71. Also, Younis Khan became Pakistan's leading Test run scorer.
The most memorable moment for England, in a series they lost 2-0, was Alastair Cook's record-breaking batting stint in the first Test. The former England captain hit 263 from 528 balls to claim the man-of-the-match award, as England held Pakistan to a draw.
Cook batted for a total of 836 minutes, registering the longest innings by an English player in International Test cricket history. He hit his third double century, and 28th century in Test cricket in the match, whilst also becoming the highest non-Asian run scorer in Asia, overtaking Jacques Kallis' 2039 runs.
3 – England snatch victory in the Karachi gloom in 2000
England's tour of Pakistan in 2000 produced three memorable Test matches. The opening two Tests finished in high-scoring draws. Graham Thorpe and Yousuf Youhana scored centuries for their respective sides in the first Test, and Pakistan chased down a 16-run deficit in the second innings of the second Test.
The third Test looked to be heading the same way after Inzamam's 142 was cancelled out by Michael Atherton, who produced a brilliant, man-of-the-match display, batting for nine hours on his way to recording 125 from 430 balls.
Darren Gough triggered a collapse in Pakistan's second innings, taking three wickets as Pakistan were bowled out for 158.
That left England chasing 176 to win in gathering gloom, with Graham Thorpe's 64 not out steering Nasser Hussain's side to a famous series victory in near total darkness.
Pakistan's time-wasting as the clock ticked and the light faded drew short shrift from umpire Steve Bucknor, who waved away their protests as the tourists closed on the target and ended Pakistan's 34-match unbeaten run at the National Stadium.
2 – Younis Khan becomes Pakistan's leading Test run scorer in 2015.
The first Test of Pakistan's 2-0 series victory over Alastair Cook's charges in 2015 produced one of the most memorable moments in meetings between the two sides.
In the first Test Younis Khan became Pakistan's leading Test run scorer, surpassing the record of former Pakistan captain Javed Miandad, whose record stood for 22 years.
Khan also broke another record in the second Test, becoming the first cricketer from Pakistan to pass 9000 Test runs, on his way to hitting 118, as Pakistan won by 178 runs. He went on to surpass 10000 Test runs, registering 34 centuries, a further Test record for Pakistan.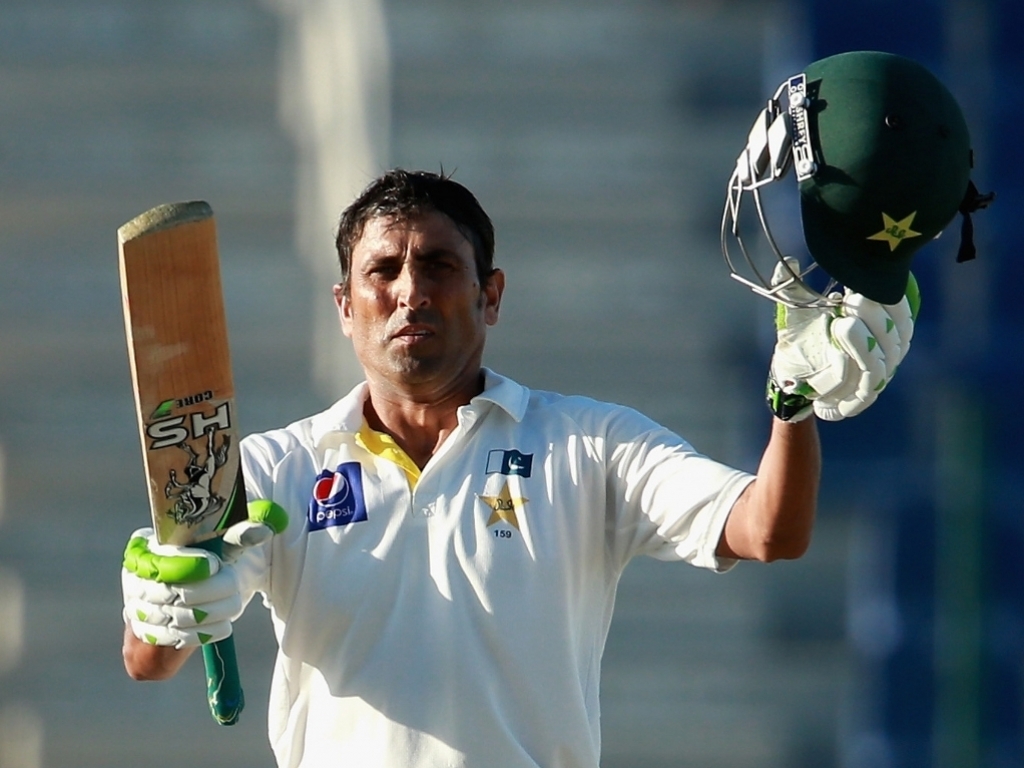 1 – England thrash Pakistan in the First Test in 2010.
England's 2010 series against Pakistan will live in infamy for the 'no-ball' spot-fix scandal that engulfed the tourist. On the field, Pakistan lost three of the four Test matches in the series by large margins, although they did win by four wickets in the third Test.
It was in the first Test, though, that England produced a dominant display, registering their second highest margin of victory in Test cricket. Eoin Morgan hit 130 runs from 216 balls in the opening innings, as England scored 354. This was followed up by an excellent performance from James Anderson, who took 5/54 as Pakistan were bowled out for 182 in reply.
The next innings were also dominated by the home side, with Matt Prior's 102 not out helping them on their way to declaring on 262 for 9. Pakistan had no answer as Anderson once again excelled, taking 6/17 as Pakistan were bowled out for just 80. In what was the 900th Test match played by England, they produced a fittingly excellent performance.