Tryon boosted by testing Caribbean tour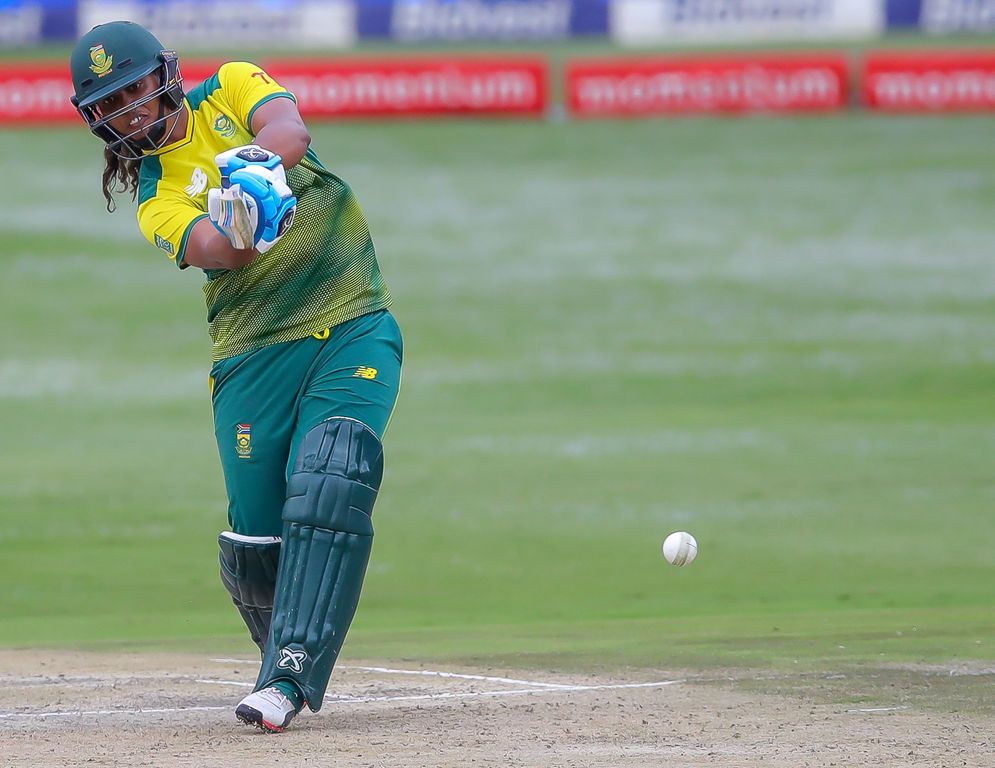 Proteas women all-rounder Chloe Tryon has praised the fight displayed by the national team during their tour of West Indies, which concluded over the weekend.
The tourists ended the trip on a high by earning a series-levelling Twenty20 International victory at the Brian Lara Cricket Academy in Trinidad and Tobago on Saturday. It meant they shared the five-match T20 sequence 2-2, while they also earned a 1-1 score line from the three one-day internationals. Match Two in the ODI series in Barbados was rained out while Match Three in the T20s was abandoned due to a soggy outfield after a tropical storm hit Trinidad.
Tryon, who captained four of the five T20 matches after Dane van Niekerk was rested after rolling her ankle, was pleased with the charter of the ladies and believes it will stand them in good stead at next month's ICC Women's World T20 in the Caribbean.
"I felt that in the ODIs we did lose it a bit," she reflected. "We were doing a lot of the basics wrong. Yes it is a bit slow here, but we know we should be better. But overall I think we learnt a lot from being here. The team has grown a lot from the ODIs and coming back from 2-0 down to level the series, so I'm really excited to go home, work on those things and come back ready for the World Cup.
"Looking back at the ODIs, we were unlucky with the one game that got rained out. I felt we were in a position where we could win that game and unfortunately conditions are something you cannot control. It was a bit of a challenge, but the way we went about it was really good. It's just a few things to work on, but it's nice to go home with the series shared."
Tryon was admittedly disappointed with some of her performances in both series and believes she can do a lot better. She said she knew what to work on when she returned home and would be spending the remaining 12 days before departure for the World T20 to ensure that she ready for the demands of the format.
"I still feel that I can finish off games more," she explained. "I do want to be the matchwinner for the team. Obviously there's still a lot to work on. I still feel that I lose a bit of concentration now and then, but I need to be more focussed if I want to be there for the team at the crucial stages in the end.
"I'll have two weeks to work on those things when I'm back home, so hopefully I'll be better prepared going forward."
South Africa can also take encouragement from the way that some of their rookies performed on the trip. In the T20s, Robyn Searle played two matches and scored 28 runs, Saarah Smith claimed four wickets and Faye Tunnicliffe made 14 runs.
Tumi Sekhukhune got the most experience of the tour, playing in every match and claimed three wickets in the ODIS and four in the T20s.
Tryon says she was extremely encouraged by the new players.
"I felt they did really well," she added. "I'm very impressed with Tumi, Sarah stood up when we needed her the most. Robyn and Faye did really well in the last game, so it's nice that these girls got some opportunity in the middle. I hope they can now take it back home and know what it means to be here and the level we play it."